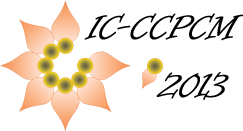 30 June – 5 July, 2013, Moscow, Russia
IV INTERNATIONAL
CONFERENCE ON COLLOID CHEMISTRY
AND PHYSICOCHEMICAL MECHANICS
Registration of participants will start on 01 July 2013 at the Faculty of Chemistry of the Moscow University, beginning in 14:00; the Welcome mixer will start here on the same day in 18:00. From 02 to 04 July 2013, all Conference activites, including ongoing registration, oral and poster sessions, will be held in Shuvalov Building. MAP, DETAILS
Note that:

For all Conference participants, a free lecture titled Intoduction into the Russian Copyright law (in the Russian language) will be read on 02 July from 18:00 to 19:20, see here.
On 03 July 2013, starting in 19:30, a Gala Dinner will take place in the Rytsarskiy Klub restaurant (price is 3000 RUB per person).
There are many excursions (paid separately) for both acompanying persons and Conference participants.
If you have any questions about your hotel accommodation, social program, transfers, Please, call this number: 8-903-245-94-94 (Bessonova Irina)

If you have any questions about your participation in the conference, registration, Please, call this number: 8-916-063-37-97 (Sitnikov Dmitriy)
21 June 2013

Detailed information about where the Conference will be held (including regstration and Welcome mixer) is published.

04 June 2013

The Conference schedule is published.

17 May 2013

Dear colleagues, we draw Your attention to the postponement of deadline for the end of the tour reservation in Saint-Petersburg from may 12 to may 30, 2013. We invite You to visit the Northern Palmyra, by right considered to be the cultural capital of Russia.

25 April 2013

Please note that dates from May, 1 to 5 and from May, 9 to 12 are announced as official holidays in Russia. All of your requests will be processed right after the holidays.

Dedicated to anniversary of the discovery of micelles
Dear colleagues!
Lomonosov Moscow State University and Scientific Council on Colloid Chemistry of the Russian Academy of Sciences organize the IV International Conference on Colloid Chemistry and Physicochemical Mechanics, to be held in Moscow on June 30 — July 5, 2013.
Traditionally, the Conference will embrace all problems of colloid and interface science.
One of the sessions (Micellar solutions and microemulsions) will be devoted to the centennial of discovery of micells. Also, within the scope of the session Surfactants, emulsions, and foams, the reports of partipants of the II All-Russian Symposium on Surfactants will be delivered as a satellite event of the Conference.
You are cordially invited to participate in this scientific event. Please, inform your colleagues about the Conference. Looking forward to meet you in Moscow,
Anatoly Rusanov,
Valery Kulichikhin,
Co-Chairmen of the Organizing Committee
The Secretariat of the Conference

Mr. Fyodor Kulikov-Kostyushko (executive secretary)

Faculty of Chemistry, Lomonosov Moscow State University
Tel.: +7 (495) 939-26-31
Email: exec@icc2013.ru


You may contact the Conference Secretariat on all issues, and particularly on issues regarding scientific content of the Conference (scientific program, abstracts submission, deadlines and timetable, special conditions of participation, etc.), and about humanitarian visas.

The Service Agent of the Conference

Mr. Vladimir Andrianov (project manager)

MONOMAX CONGRESSES & INCENTIVES
Tel.: +7 (495) 726-51-35
Email: icc2013@onlinereg.ru

Our Service Agent should be contacted on such matters as participation in the exhibition, sponsorship and partnership, technical issues with payments, visa support (tourist visas only), and extra services (hotel accommodation, transfers, social program, etc.).

Official services agent
MONOMAX CONGRESSES & INCENTIVES

Professional congress organizer
© 1998-2013: IC-CCPCM 2013