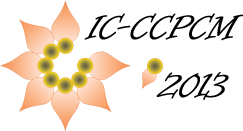 30 June – 5 July, 2013, Moscow, Russia
IV INTERNATIONAL
CONFERENCE ON COLLOID CHEMISTRY
AND PHYSICOCHEMICAL MECHANICS
Essential information
First day (1 July 2013) —

registation of participants (from 14:00) and Welcome mixer (from 18:00) will be held at the bulding of Faculty of Chemistry («C»): Leninskiye Gory, 1, str. 3.
Second, third and fourth days (2 June — 4 June 2013) —

all Conference activities, inculding ongoing registration, will be held in Shuvalov Builindg («B»): Lomonosovskiy Prospekt, 27, korp. 4.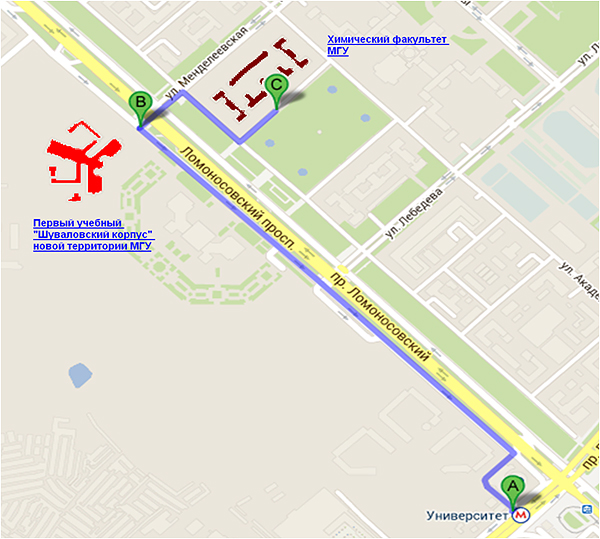 How to get there.
Get yorselft to the
Universitetskya
metro station, leave it using escalator (and not stairs). Then either
without crossing any street, go on feet 10-15 minutes to the Shuvalov building; then, if needed, cross the road to get close to the Faculty of Chemistry.
cross Lomonosovkiy prospekt and use public transportation to get the following stops:

stops Mendeleyevskaya ulitsa or Biblioteka MGU (buses 1, 57, 61, 67, 103, 113, 130, 187, 260, trolleybus 34): there are Suvalov Bulding located on the left, so you need to cross Lomonosovskiy prospect; and Faculty of Chemisty on the right.
Stop Dom kultury MGU (buses 661, 119, 57); convenient stop to get to the Faculty of Chemistry or to the Main Building
Important! All registered Participants and Visitors of the Conference who received their Conference badges are allowed, upon their presentation at the entrance, to visit Shuvalov Building, Faculty of Chemistry and Main Building up to 05 July 2013, inclusive.
Please pay your attention that while coffee breaks are included in the registation fee, the lunches are not. However, during reserved time for lunches (12:10 to 13:30) you'll have many opprotunities for having lunch. There is a woking cafeteria in Shuvalov building which is especially recommended for Conference participants, as well as cafeteria at the Faculty of Chemistry, in the Main Builing and in other places. The price for a lunch will probably be around 4-7 EUR per person, depending on dishes selected.
One of the oldest Russian institutions of higher education, Moscow University was established in 1755. In 1940 it was named after Academician Mikhail Lomonosov (1711 — 1765), an outstanding Russian scientist, who greatly contributed to the establishment of the university in Moscow.
Mikhail Lomonosov was one of the intellectual titans of XVIII century. The great Russian poet Alexander Pushkin described him as a person of formidable willpower and keen scientific mind, whose lifelong passion was learning. Lomonosov's interests ranged from history, rhetoric, art and poetry to mechanics, chemistry, mineralogy. His activity is a manifestation of the enormous potential of the Russian scientific community whose representatives occupied the leading positions in the world at the time. Peter I reformed Russia, which allowed the country reach the standards of the contemporary European powers in many spheres. Great importance was placed on education. In 1724 the St. Petersburg Academy of Sciences, founded by Peter I, established a university and a grammar school to educate intellectuals and researchers the country needed; however, these educational establishments did not fulfill the task they took on. It was Michail Lomonosov who suggested, in his letter to Count Shuvalov, the idea of establishing a university in Moscow. An influential courtier and the favorite of Empress Elizaveta Petrovna, Count Shuvalov was a patron of the arts and science; he supported Lomonosov's plans for a new university and presented them to the Empress.
In 1755, on 25 January, St. Tatiana's Day according to the Russian Orthodox Church calendar, Empress Elizaveta Petrovna signed the decree that a university should be founded in Moscow. The opening ceremony took place on 26 April, when Elizaveta Petrovna's coronation day was celebrated. Since 1755 25 January and 26 April are marked by special events and festivities at Moscow University; the annual conference where students present results of their research work is traditionally held in April.
According to Lomonosov's plan, there were originally three faculties. First all the students acquired a comprehensive knowledge in the field of science and humanities at the Faculty of Philosophy; then they could specialize and continue at the Faculty of Philosophy or join either the Law Faculty or The Faculty of Medicine. Lectures were delivered either in Latin, the language of educated people at the time, or in Russian. Unlike European Universities, Moscow University did not have the Faculty of Theology, since Russia had special theological education establishments.
In the structure of the University of Moscow today there are 39 faculties, Moscow University comprises 15 research institutes, 4 museums, 6 local branches in Russia and abroad, about 380 departments, the Science Park, the Botanical Gardens, The Library, the University Publishing House and a printing shop, a recreational centre and a boarding school for talented children.
A number of new faculties, departments and research laboratories have been recently established, new academic programs are being continuously introduced together with new curricula; there are over 140 distance learning programs. Research has recently started in 30 new interdisciplinary areas.
Moscow University is a major innovative center. The first Russian Science Park appeared at MSU; in the last three years about 70 small companies have been founded within the Park, they specialize in chemistry and innovative materials, biotechnology, pharmaceutics, ecology and environmental management, production of scientific equipment and instruments. The Park unites about 2,000 scientists who work to make scientific achievements into technological innovations, cooperating with business companies in the development of innovative technologies. It is in the Scientific Park that the links with leading Russian companies and potential employers of University graduates are established. Another area where links between academics and business have been successfully developing is corporation universities within Moscow University that are a model of innovative approach to tuition. Accomplished in 2006 — 2007 within the framework of the National Educational Project, the practical implementation of the approach resulted in 67 innovative Master's Degree programs.
The Secretariat of the Conference

Mr. Fyodor Kulikov-Kostyushko (executive secretary)

Faculty of Chemistry, Lomonosov Moscow State University
Tel.: +7 (495) 939-26-31
Email: exec@icc2013.ru


You may contact the Conference Secretariat on all issues, and particularly on issues regarding scientific content of the Conference (scientific program, abstracts submission, deadlines and timetable, special conditions of participation, etc.), and about humanitarian visas.

The Service Agent of the Conference

Mr. Vladimir Andrianov (project manager)

MONOMAX CONGRESSES & INCENTIVES
Tel.: +7 (495) 726-51-35
Email: icc2013@onlinereg.ru

Our Service Agent should be contacted on such matters as participation in the exhibition, sponsorship and partnership, technical issues with payments, visa support (tourist visas only), and extra services (hotel accommodation, transfers, social program, etc.).

Official services agent
MONOMAX CONGRESSES & INCENTIVES

Professional congress organizer
© 1998-2013: IC-CCPCM 2013