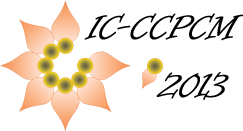 30 June – 5 July, 2013, Moscow, Russia
IV INTERNATIONAL
CONFERENCE ON COLLOID CHEMISTRY
AND PHYSICOCHEMICAL MECHANICS
Abstract submission instructions
The Conference participants wishing to hold an oral or poster presentations should place their abstracts via online registration system after being registered online. The person submitting an abstract must be a reporting person, i.e. a person who will actually make an oral or poster presentation at the Conference.
The deadline for abstracts submission is 18 April 2013.
How to submit an abstract
If you are already registered, login using your personal login and password which you should have received by email, and press the button Abstract submission. Then do the following.
1. Select presentation type (oral or poster).
2. Select desired section from drop-down menu.
3. Write the abstract title in the respective field.
4. In the Comments fields, write a summary (a very short version of your abstract) no more than 500 characters long. The summary shall be published in the book of abstracts in paper form.
5. On the right side of the page, enter all authors, with their affiliations. Your name should be entered as well, and you should mark yourself as presenting author for this abstract.
6. Load (the Abstract text field) the text of your abstract in Microsoft Word (97, 2000, XP, 2003 versions) or RTF format.
7. Enter your email address in the corresponding field.
8. Press Submit, wait and then, on the next page, press Finish.
9. To view submitted abstracts, go to My abstracts area of the online registration system.
10. To correct your abstract, press My abstracts, delete the abstract you would like to correct, then submit the correct one (repeat steps from 1 to 9 above).
Note. When filling text fields during abstract submission, use only digits, basic punctuation and basic Latin alphabet without diacritics. It is not allowed to use apostrophe ' or quotation mark " but these should be replaced by single ` or double `` grave accent sign.
Important information
The Organizing Committee and the Service Agent of the Conference maintain the right to perform copy-editing and formatting of the submitted abstracts for the purposes of uniformity. However, the whole responsibility of the accuracy and correctness of information contained in the submitted abstracts lies upon their authors.
The Secretariat of the Conference

Mr. Fyodor Kulikov-Kostyushko (executive secretary)

Faculty of Chemistry, Lomonosov Moscow State University
Tel.: +7 (495) 939-26-31
Email: exec@icc2013.ru


You may contact the Conference Secretariat on all issues, and particularly on issues regarding scientific content of the Conference (scientific program, abstracts submission, deadlines and timetable, special conditions of participation, etc.), and about humanitarian visas.

The Service Agent of the Conference

Mr. Vladimir Andrianov (project manager)

MONOMAX CONGRESSES & INCENTIVES
Tel.: +7 (495) 726-51-35
Email: icc2013@onlinereg.ru

Our Service Agent should be contacted on such matters as participation in the exhibition, sponsorship and partnership, technical issues with payments, visa support (tourist visas only), and extra services (hotel accommodation, transfers, social program, etc.).

Official services agent
MONOMAX CONGRESSES & INCENTIVES

Professional congress organizer
© 1998-2013: IC-CCPCM 2013