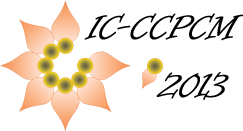 30 June – 5 July, 2013, Moscow, Russia
IV INTERNATIONAL
CONFERENCE ON COLLOID CHEMISTRY
AND PHYSICOCHEMICAL MECHANICS
Registration instructions
The online registration is the first and obligatory step for participation in the Conference. Registered persons
receive the news of the event
are reminded of important dates and deadlines
can book and order extra services, i.e. hotel accommodation, transfers, etc.
can pay the registration fee and extra services by various means of payment
Who should register
Every person (a conference participant, a visitor, an accompanying person) must register online separately. You should bear in mind that accompanying persons not paying any registration fees are not allowed to take part in the Conference activities and are not entitled to receive visa supporting documents for humanitarian visa. If you do not make oral or poster presentation but want to take part in the Conference or intend to get visa supporting documents for humanitarian visa, you should pay the Visitor registration fee.
Step-by-step registration guide
1. To start registration, click on the Online Registration button above.
2. Carefully read through user agreement form and confirm your consent with the terms and policies.
3. On the main page of the Online registration system, click Start registration.
4. Fill in the registration form. You must fill all required fields. Use only digits, basic punctuation and basic Latin alphabet without diacritics. It is not allowed to use apostrophe ' or quotation mark " but these should be replaced by single ` or double `` grave accent sign. After completing the registration form, click Submit to proceed to your personal page.
Note. While we guarantee the safety of your personal data, it is you who takes the full responsibility for reliability of the information submitted. Please make sure that the information is complete and correct when filling any forms, submitting abstracts, etc.
5. Select the type of registration fee and click Update registration type.
6. Check your email for the automatically generated message with login and password for access to your personal page.
If you have not received login and password after registration, lost them or have other difficulties with registration, contact the technical secretariat at icc2013@onlinereg.ru
The Secretariat of the Conference

Mr. Fyodor Kulikov-Kostyushko (executive secretary)

Faculty of Chemistry, Lomonosov Moscow State University
Tel.: +7 (495) 939-26-31
Email: exec@icc2013.ru


You may contact the Conference Secretariat on all issues, and particularly on issues regarding scientific content of the Conference (scientific program, abstracts submission, deadlines and timetable, special conditions of participation, etc.), and about humanitarian visas.

The Service Agent of the Conference

Mr. Vladimir Andrianov (project manager)

MONOMAX CONGRESSES & INCENTIVES
Tel.: +7 (495) 726-51-35
Email: icc2013@onlinereg.ru

Our Service Agent should be contacted on such matters as participation in the exhibition, sponsorship and partnership, technical issues with payments, visa support (tourist visas only), and extra services (hotel accommodation, transfers, social program, etc.).

Official services agent
MONOMAX CONGRESSES & INCENTIVES

Professional congress organizer
© 1998-2013: IC-CCPCM 2013