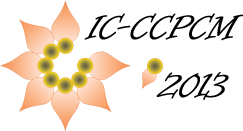 30 June – 5 July, 2013, Moscow, Russia
IV INTERNATIONAL
CONFERENCE ON COLLOID CHEMISTRY
AND PHYSICOCHEMICAL MECHANICS
Abstracts requirements
Online submission of abstracts is activated from 20 December 2012.
The deadline for abstracts submission is 18 April 2013.
All abstracts must be submitted via online registration system of the Conference. Abstracts sent through email directly to the Conference Secretariat or the Conference Service Agent shall be treated as not submitted.
General requirements
The abstract title must contain no more than 200 characters, including spaces.
The reporting author should make sure that all his or her co-authors know the content of the abstract submitted before the actual submission, and agree to such submission.
Only the abstracts of participants who have paid the registration fee timely will be included in the Conference materials (the Conference program booklet and the book of abstracts on CD).
The authors should select preferable form of presentation (oral or poster) and thematic section, but the Program Committee holds the final decision.
The Organizing and Program Committees shall decide on the type of every submitted oral presentation (to be accepted as a normal oral presentation or as a key lecture) based on the abstract submitted and in coordination with its authors. Any special suggestions on key lectures should be addressed to the Conference Secretariat via exec@icc2013.ru.
Text requirements
Language: English.
Paper size: A4; fields: 2 cm on top, bottom and left sides, 1.5 cm on right side
Font: Times New Roman, 12 pt; line spacing: single; no extra spacing between paragraphs
Abstract size: no more than two pages including tables and illustrations, if any.
You also should post a resume (a short summary of your abstract) no more than 500 characters long in the field Comments while submitting your abstract.
Text of your abstract should be submitted in Microsoft Word (97, 2000, XP, 2003 versions) or RTF format.
Important! While sending an abstract, do not include abstract title, authors etc. in the text file itself. Such information should be put separately, into respective fields on the abstract submission page in the online registration system.
The Secretariat of the Conference

Mr. Fyodor Kulikov-Kostyushko (executive secretary)

Faculty of Chemistry, Lomonosov Moscow State University
Tel.: +7 (495) 939-26-31
Email: exec@icc2013.ru


You may contact the Conference Secretariat on all issues, and particularly on issues regarding scientific content of the Conference (scientific program, abstracts submission, deadlines and timetable, special conditions of participation, etc.), and about humanitarian visas.

The Service Agent of the Conference

Mr. Vladimir Andrianov (project manager)

MONOMAX CONGRESSES & INCENTIVES
Tel.: +7 (495) 726-51-35
Email: icc2013@onlinereg.ru

Our Service Agent should be contacted on such matters as participation in the exhibition, sponsorship and partnership, technical issues with payments, visa support (tourist visas only), and extra services (hotel accommodation, transfers, social program, etc.).

Official services agent
MONOMAX CONGRESSES & INCENTIVES

Professional congress organizer
© 1998-2013: IC-CCPCM 2013