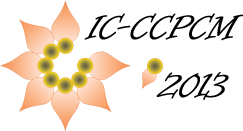 30 June – 5 July, 2013, Moscow, Russia
IV INTERNATIONAL
CONFERENCE ON COLLOID CHEMISTRY
AND PHYSICOCHEMICAL MECHANICS
Scientific program
Language of the Conference
The working language of the Conference is English. All abstracts, oral and poster presentations must be delivered in English.
Types of presentations
Plenary lectures
Oral presentations (in thematic sections)

Key lectures (30 minutes)
Thematic reports (20 minutes)

Poster presentations
The list of plenary lectures is already formed in a final form (see below). For thematic sections, the Organizing and Program Committees, in coordination with authors, shall choose key lectures from all submitted oral presentations. If you have any suggestions about key lectures, you can write to the Conference Secretariat at exec@icc2013.ru.
Plenary lectures
A.I. Rusanov. The amazing world of micelles
A.M. Muzafarov. Macromolecular nanoobjects and lyophilic colloids: new intersections of colloid and polymer chemistry
P. Kralchevsky. Quantitative approaches to micellar equilibria, growth and dynamics
B. Lindman. Polyelectrolyte-surfactant association—from fundamentals to applications
Thematic sections
Lyophilic colloid systems: micellar solutions and microemulsions
Stability of colloid systems; stabilization factors
Theoretical issues of colloid chemistry and physicochemical mechanics
Surface phenomena and adsorption
Physicochemical mechanics, rheology of complex liquids, mechanochemistry
Surfactants, emulsions, and foams
Colloid chemistry of polymers
Natural disperse systems and ecology
Superhydrophobic surfaces, interface rheology, microfluidics
Biotechnology and colloid chemistry of alimentary products
Nanomaterials
The list of sections given above is preliminary. The definitive list shall be given when preparing the work program of the Conference.
The Secretariat of the Conference

Mr. Fyodor Kulikov-Kostyushko (executive secretary)

Faculty of Chemistry, Lomonosov Moscow State University
Tel.: +7 (495) 939-26-31
Email: exec@icc2013.ru


You may contact the Conference Secretariat on all issues, and particularly on issues regarding scientific content of the Conference (scientific program, abstracts submission, deadlines and timetable, special conditions of participation, etc.), and about humanitarian visas.

The Service Agent of the Conference

Mr. Vladimir Andrianov (project manager)

MONOMAX CONGRESSES & INCENTIVES
Tel.: +7 (495) 726-51-35
Email: icc2013@onlinereg.ru

Our Service Agent should be contacted on such matters as participation in the exhibition, sponsorship and partnership, technical issues with payments, visa support (tourist visas only), and extra services (hotel accommodation, transfers, social program, etc.).

Official services agent
MONOMAX CONGRESSES & INCENTIVES

Professional congress organizer
© 1998-2013: IC-CCPCM 2013